Phase 3 NASH Trials: Genfit's Drug Will Beat Intercept's OCA To Market
Disclosure:
I am/we are long GNFTF.
(More...)
I wrote this article myself, and it expresses my own opinions. I am not receiving compensation for it (other than from Seeking Alpha). I have no business relationship with any company whose stock is mentioned in this article.
Summary
NASH has no FDA-approved therapy and could represent a $35 billion untapped market.
Intercept and Genfit are currently the only biotechs with a Phase 3 NASH drug candidate.
Comparing previous efficacy results, safety profile and timing to market clearly favors Genfit's drug, elafibranor, over Intercept's OCA.
There is an abnormality in Intercept being currently valued 4x more than Genfit while its NASH prospects are dimmer.
Genfit will likely be first to market and presents an alpha opportunity before a probable NASDAQ IPO in 2016.
Non-alcoholic steatohepatitis, or NASH, is a form of chronic liver disease caused by a build-up of fat in the liver (progressive fatty liver disease) affecting at least 2 to 5 percent of Americans. There is currently no FDA-approved therapy for NASH, even though the disease can progress to cirrhosis and ultimately lead to hepatocellular carcinoma (liver cancer), which makes it one of the major unmet medical needs of the 21st century - NASH is now the second most common cause for liver transplantation in the U.S. (see Figure 1) and it is anticipated to become the leading indication by 2020. The market for NASH drugs is currently estimated to reach $35 to $40 billion by 2025, a huge untapped market that could support several blockbuster drugs in the years to come.
- Figure 1: Waitlist registration for liver transplantation in the U.S.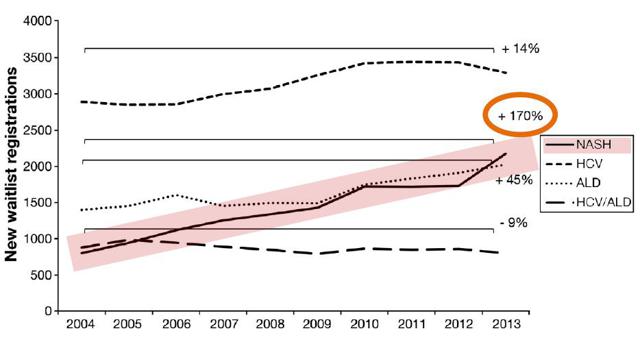 Click to enlarge
(Source: Wong, Gastro 2015 )
Several companies are currently developing NASH drugs but until now only Intercept (NASDAQ:ICPT ) and Genfit (OTCPK:GNFTF ) have demonstrated histological evidence that their compounds are able to reverse or reduce NASH symptoms in randomized controlled trials. The "race" to put the very first NASH-targeted drug on the market was marked by the widespread debates surrounding the announcement of Genfit's Phase 2b top line results in March and Intercept's OCA safety problems as observed in the FLINT Phase 2b trial. The next much anticipated step in this race was the announcement of Phase 3 trials : In September 2015, Intercept officially started its Phase 3 trial of obeticholic acid, or OCA , while Genfit announced recently the design of its own Phase 3 trial to start before the end of the year with its leading compound, elafibranor .
For over nine months, I have been publishing focused and follow-up articles on Seeking Alpha (see Table 0) which must be considered as parts of a coherent investment thesis, which can be summarized as follows:
The careful and objective analysis of Phase 2 trial data shows that elafibranor and OCA appear to be effective on moderately to severely ill NASH patients. However, when comparing elafibranor to OCA, what comes out is that the rationale behind both drugs is substantially different: On the one hand, elafibranor is a global, cardioprotective drug with many beneficial effects on top of existing medications and on the other hand, OCA has some inherent adverse side effects that will limit therapeutic dosage and might prove worse in the long term than its beneficial effect on NASH patients.
Thus, the current 4x valuation gap observed between Intercept (market cap of ~$4 billion) and Genfit (market cap of ~$1 billion) is totally unjustified considering the similarities in the development stage of their drugs (both Phase 3), their potential market (both U.S. and Europe) and the data collected from previous trials. Hence, if logic prevails, this gap is bound to close as investors reevaluate their positions and balance their investments more adequately between the two most advanced NASH-targeted biotechs.
- Table 0: Seeking Alpha articles related to the Genfit/Intercept investment thesis
Date of publication

Main theme or argument developed in the article

Gain since publication (as of Nov. 16)

Misunderstood Phase 2b results provide a good opportunity to buy Genfit

long GNFTF: +56%

Evidence that Adam Feuerstein spread factually incorrect bearish arguments about Genfit

long GNFTF: +29%

Intercept's NASH Phase 3 trial is good news for Genfit because of its size and because of mandatory co-primary endpoints

long GNFTF: +11%

Head-to-head comparison of elafibranor and OCA and long/short pair trade thesis

long GNFTF: +34%

short ICPT: +32%

NASH drugs update on Intercept, Genfit and Raptor

N/A (review article)

Review of Intercept's Phase 2 failure in Japan

N/A (review article)
For the first time since NASH awareness has grown to attract many investors, there will be two ongoing Phase 3 NASH trials with realistic commercial perspectives . In addition to the hindsight offered by previous articles, it only seems logical at this point to follow through with a new global comparative analysis of both Phase 3 designs, relevant data from previous trials (efficacy and safety) and market perspectives of the two most prominent biotechs in the sector and provide concluding factual arguments to this investment thesis.
TRIAL DESIGN - A tale of two trials
Genfit and Intercept both started pivotal Phase 3 trials, meaning that clinical success at this point is anticipated to lead to market approval. So, clinical events and commercial perspectives of NASH drugs in the coming years will be vastly determined by the design of those clinical trials.
Here is a table comparing the designs of Genfit's and Intercept's Phase 3 NASH trials according to the latest available info at the time of writing:
- Table 1: Comparison of Phase 3 trial designs by Genfit and Intercept
Genfit

Intercept

Total number of patients in Phase 3

1,800

2,000

Number of patients to treat before interim analysis (72 weeks)

900

1,400

Subpart H conditional approval

Yes, after positive interim analysis

Yes, after positive interim analysis

Starting date of Phase 3

Q4 2015 (anticipated)

Q4 2015

Number of arms

1 (elafibranor 120mg)

2 (OCA 10mg / OCA 25mg)

Randomization

2:1 (elafibranor/placebo)

1:1:1

Phase 3 primary endpoint(s) considered for early approval

NASH resolution without worsening of fibrosis*

1/ NASH resolution without worsening of fibrosis and

2/ improvement of at least one stage of liver fibrosis with no worsening of NASH

Phase 2b primary endpoint

NASH resolution without worsening of fibrosis**

Decrease in NAS scores of at least 2 points without worsening of fibrosis

Main inclusion criteria

NAS≥4, fibrosis≥F2

NAS≥4, fibrosis≥F2

Number of centers in Phase 2b/number of centers in Phase 3

56/200

8/300
* defined as ballooning=0, inflammation=0-1
** defined as a score of 0 in either ballooning, inflammation or steatosis
(Sources: Genfit's announcement and Intercept's clinical trial page )
What deductions can we make from this objective comparison?
First, there is the timing perspective : As NASH is considered to be an unmet therapeutic need with no available treatment, both biotechs will be allowed a shortcut to the market thanks to a conditional "Subpart H " approval, which states that if the drug shows convincing safety and efficacy data in a predefined interim analysis, it might be put on the market conditionally pending completion of the Phase 3 trial, which is expected to last at least 5 to 6 years in total.
Indeed, as NASH is a chronic, metabolic disease that will require long-term therapy or even lifelong treatments, any trial conducted to prove efficacy on key endpoints such as progression to cirrhosis or mortality will need to go on for a rather long time - the main goal of any NASH drug remains to show that it reduces the need for costly procedures such as liver transplant, thus the need to justify its cost/effectiveness model in the long term. However, in this context, Subpart H provides biotechs with a potential solution to obtain a far quicker (albeit conditional) market approval that may generate substantial profits while longer trials are completed.
Taking current trial designs into account, it is therefore factually obvious that with about 55% more patients than Genfit to enroll and treat before applying for Subpart H approval, Intercept is currently not in a favorable position to reach the market before Genfit does .
Second, there are clear differences in clinical endpoints : Intercept had to include 2 co-primary endpoints in order to apply for conditional approval, whereas Genfit obtained a trial design in which successful results in one single endpoint will be sufficient for approval. In addition to this, while Genfit's endpoint happens to be very close to its Phase 2b endpoint that showed evidence of efficacy in a similar patient population, Intercept's drug did not demonstrate significant efficacy on its Phase 3 co-primary endpoint of "NASH resolution" although it did on an easier NASH-related endpoint in Phase 2b (decrease in NAS scores) - see this article for details.
So, in brief, Intercept will have to score two shots on goal at once, including one unproven efficacy endpoint, to get approval of OCA in NASH, whereas Genfit only needs to replicate the results of its Phase 2b trial on a favorably adjusted patient population to succeed , with a new definition of "NASH resolution" that is actually more favorable to its compound than the previous one, as we will see in the next section of this article.
EFFICACY - Previous efficacy results according to Phase 3 designs
As a reminder from my previous articles, NASH is diagnosed when, in addition to NAFLD (Nonalcoholic Fatty Liver Disease), both inflammatory infiltrates as well as ballooning and liver cell injury are present. The severity of NASH is then determined according to a numerical score, which is called the NAFLD Activity Score or NAS. Accordingly, NAS is the sum of the separate scores for steatosis (0-3), hepatocellular ballooning (0-2) and lobular inflammation (0-3), with the majority of patients with NASH having a NAS score of ≥5. NASH patients all have a NAS comprised between 3 (the less ill patients) and 8 (the most severely ill patients), with a minimum score of 1 in each of the three indicators (steatosis, ballooning and inflammation) - or at least, that was the prevalent definition in the last years. (Source: Medscape )
Genfit's elafibranor
One of the most significant new elements revealed in Genfit's Phase 3 announcement is the new consensual definition of "NASH resolution" agreed upon by the company, the FDA and key opinion leaders in the field. The idea behind this new definition is, according to Pr. Arun Sanyal , to emphasize the role of cell injury and inflammation as the main drivers of fibrosis evolution, thus allowing for more flexibility on the "steatosis" component of NASH.
Hence, this new "NASH resolution" endpoint is now defined as:
- total absence of ballooning (score = 0)
- absent or mild inflammation (score 0-1)
- steatosis can be present (score 0-3)
In addition to this, "worsening of fibrosis" is now defined in Genfit's study as "any progression ≥1 stage."
Compared to its Phase 2b endpoint, Genfit's Phase 3 primary endpoint might appear as a bit more stringent - in Phase 2b, a score of 0 in any component of NASH was deemed sufficient to claim resolution of the disease while Phase 3 resolution will require that both ballooning and inflammation be concomitantly reduced (ballooning=0 and inflammation<2). Yet, when looking at the Phase 2b data with those new resolution criteria, what appears clearly is that elafibranor's efficacy actually improves over previous resolution criteria when compared to placebo - see Table 2.
- Table 2: Genfit's Phase 2b results of elafibranor 120mg according to Phase 3 endpoint definition
Number of patients

Patient population

Placebo

Elafibranor 120mg

p-value

Previous definition of "NASH resolution" (0 score in any component)

274

NAS≥3 (NYSE:ITT )

17%

21%

N.S. (0.28)

New consensual definition of "NASH resolution" (ballooning=0 and inflammation<2)

274

NAS≥3 (ITT*)

12%

19%

0.045

234

NAS≥4

9%

19%

0.013

204

NAS≥4 with fibrosis**

11%

20%

0.009
* ITT population with Phase 3 primary endpoint definition
** Sample matching Phase 3 patient population
(Source: Genfit's AASLD presentation )
In fact, the more stringent the criteria get, the best elafibranor seems to perform - to the point where, when applied to patients exactly matching Genfit's Phase 3 target population, this new definition shows that elafibranor 120mg would have achieved "NASH resolution" in 20% of patients compared to 11% for placebo, with a highly significant effect (p=0.009). As NASH is likely caused by multiple metabolic factors, that is actually quite coherent with the fact that the more severely ill patients are also the ones less likely to benefit from standard treatments (i.e. current untargeted therapies and/or changes in diet and physical activity) and whom elafibranor will impact the most.
Moreover, elafibranor 120mg showed antifibrotic and global cardio-protective beneficial effects on top of standard treatments (statins, antidiabetic drugs…) in this very high-risk population (see Figure 2 and the section below discussing safety). These results were formally confirmed during the 2015 AASLD congress, where Genfit exposed its latest findings in two oral presentations, including a presidential plenary session. According to those presentations, elafibranor (120mg arm) demonstrated overall beneficial effects on a number of markers, including improvements in fibrosis scores and cardiometabolic markers (emphasis added):
In the 120 mg arm, resolution of NASH, resulted in a significant improvement in fibrosis (mean change -0.67 vs. +0.09 in non-responders, p<0.001) . In the ITT population, pts in the 120 mg arm had improved ALT, GGT and ALP, non-invasive fibrosis panels (NFS Angulo score and Fibro-Test) and systemic inflammatory markers, hsCRP, haptoglobin, fibrinogen, 2macroglobulin. Importantly, cardiometabolic risk markers such as triglycerides, LDL-C, HDL-C, improved significantly in the 120 mg group (ITT population) vs. PLB, as well as HbA1c and FFA in diabetic pts, all on top of standard of care therapies. Tolerability was excellent without weight gain, cardiac events or safety signal. (Source: AASLD abstract book )
- Figure 2: Elafibranor's global metabolic activity and rationale for treating NASH patients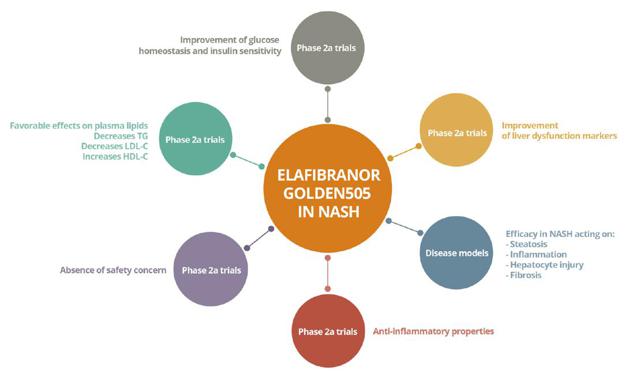 Click to enlarge
(Source: Genfit's 2015 AASLD presentation )
Intercept's OCA
On the other hand, while Intercept was first to announce a Phase 3 trial design a few months ago, it is hard to anticipate at this time whether the company will have to adjust its own "NASH resolution" endpoint from its starting REGENERATE trial to match the new definition applied to Genfit's - since it was first published a few weeks ago, the design of the REGENERATE trial has already undergone an unusual number of significant changes , so this is not unlikely.
However, if that is not the case, one could wonder how Intercept's trial results might be interpreted a few years from now if the new "NASH resolution" definition becomes standard in treating NASH patients. There is an obvious precedent to this situation as in Phase 2b Intercept chose to conduct a trial based on an endpoint it had to give up in Phase 3, in favor of a more widely accepted endpoint. What would happen if Intercept chose to go on with no adjustment and delivered results based on an obsolete definition of its most important endpoint?
Meanwhile, it is already possible to assess Intercept's chances of success based on Phase 2 results from 2 different 72-week trials of OCA in NASH patients.
The first set of relevant data that can be analyzed is the results of the FLINT Phase 2b trial (as published in The Lancet ). According to those results, OCA did not reach statistical significance in one of the Phase 3 co-primary endpoint ("NASH resolution"), although the company produced its own post-hoc subgroup analysis allegedly showing efficacy on this (secondary) endpoint in Phase 2b - see Table 3.
- Table 3: Intercept's Phase 2b results of OCA according to REGENERATE Phase 3 co-primary endpoints definition
Number of patients

Patient population

Placebo

OCA 25mg

p-value

"NASH resolution without worsening of fibrosis" endpoint

200

NAS≥4 (all completers)

13%

22%

N.S. (0.0832)

181

NAS≥4 (company's post-hoc subgroup)

8%

19%

0.0278

Improvement in fibrosis score of at least 1 point

200

NAS≥4 (all completers)

19%

35%

0.004

OCA's effect on hepatocellular ballooning improvement (of at least 1 point)

200

NAS≥4 (all completers)

31%

46%

0.03

OCA's effect on lobular inflammation improvement (of at least 1 point)

200

NAS≥4 (all completers)

35%

53%

0.006
(Source: Intercept's FLINT study results, Lancet and company's presentations )
Besides, it appears from the FLINT data that OCA does not seem significantly effective in treating NASH in non-diabetic patients (representing about half of the total FLINT patient population ) which was a fact notable enough to generate a specific comment in The Lancet:
(...) [F]or participants with diabetes, liver histology improved in 53% of patients who received obeticholic acid versus 19% for placebo (odds ratio [OR] for improvement with obeticholic acid 4·6, 95% CI 2·0-10·6, p=0·0003), while for patients without diabetes, liver histology improved in 37% patients with obeticholic acid versus 23% with placebo (OR 2·0, 95% CI 0·8-4·7, p=0·12) . (Source: The Lancet )
The second relevant set of data is provided by the results of a Phase 2 dose ranging NASH trial conducted by Intercept's collaborator Sumitomo Dainippon Pharma in Japan (codename: DSP-1747).
The main goal of this trial was to show evidence of a dose dependent effect of OCA in NASH patients (which was not significant but close enough at p=0.053). However, more importantly, the trial also highlighted the fact that lower doses of OCA (10mg and 20mg) were very far from showing any efficacy at all (in a less stringent endpoint than the one used in Phase 3) - see Table 4.
- Table 4: Results of OCA in the DSP-1747 trial on "NAS improvement ≥2 points with no worsening of fibrosis" endpoint
| | | | | |
| --- | --- | --- | --- | --- |
| | placebo | 10mg OCA | 20 mg OCA | 40mg OCA |
| Number of patients completing the trial/number of patients treated | 45/50 | 44/50 | 44/50 | 37/50 |
| % of patients achieving endpoint | 20% | 22% | 28% | 38% |
| corresponding p-value | - | p=0.8070 | p=0.3378 | p=0.0496 |
(Source: Intercept's DSP-1747 top line announcement )
That finding is especially relevant in the case of Intercept's Phase 3 design because, in an effort to find a balance between efficacy and serious side effects caused by higher doses of OCA, Intercept's management chose to include a 10mg arm in Phase 3 (in addition to the 25mg arm corresponding to the dose tested in Phase 2b). However, with an efficacy rate barely higher than placebo (22% vs. 20%) and with a p-value close to 1 (p=0.8070), evidence from this Phase 2 trial leads to the fairly safe assumption that the Phase 3 OCA 10mg arm is very unlikely to achieve its goal of "NASH resolution" since it so largely failed to do so with an easier endpoint in Phase 2 - and although the company invokes "differences in baseline characteristics" to explain the failure of its drug on these patients, this remains to be demonstrated.
Furthermore, we also learned from the announcement that "no difference was seen in fibrosis improvement in the OCA groups compared to placebo " in the DSP-1747 trial, which could be due to the trial being underpowered to show such effect but also brings into question the real chances of success of OCA in its other Phase 3 co-primary endpoint.
So, in brief, with the 10mg arm being probably futile to treat NASH patients, it is most likely up to the 25mg arm alone to show convincing efficacy on its Phase 3 endpoints. Even so, there remains legitimate doubts regarding the ability of the 25mg arm to show convincing efficacy: First, there are the Phase 2 results in Japan which showed that the barely lower 20mg dose arm missed the target by far (p=0.3378) and then there is also a series of well-known biases and issues with the FLINT trial that could bring into question the reliability of the efficacy results observed with a similar 25mg dose tested.
Indeed, among the very questionable facts discovered in the FLINT Phase 2b trial data are:
- the non-centralized reading of biopsies which is a well-recognized bias in clinical trials (Juluri, 2011 ) and which was specifically denounced in the setting of the FLINT trial
- 20% of treated patients who did not have NASH at baseline (but were somehow considered to be "cured " according to some "NASH resolution" rates provided by the company)
- 20% of patients in the OCA arm who were actually taking Vitamin E in addition to OCA with no record of stabilization or start of treatment during the trial (which means that improvements could possibly be attributed to concomitant medications, as Vitamin E has shown efficacy in treating NASH in previous trials )
- 51% of patients in the OCA arm who were taking statins at baseline, and some who initiated the treatment during the trial (again, bringing questions about the real effects of OCA on cholesterol levels but also on fibrosis improvement as a recent study has shown that statins on their own were associated with a protective effect on fibrosis F2-F4)
(Source: The Lancet, FLINT trial results, appendix )
As evidence of the importance of those biases, most of them have been implicitly acknowledged by the design of the Phase 3 trial as biopsy readings will be centralized and it is now required that all patients enrolling in Phase 3 be "either not taking or on stable doses of:
- TZDs or vitamin E
- Therapies for diabetes
- Allowed concomitant medications"
The impact those inclusion criteria will have on OCA's efficacy is still unknown. However, nothing seems to be anticipated in the Phase 3 design to account for unresponsive non-diabetic patients, yet.
SAFETY - Two fundamentally different drugs
As explained before, any NASH drug is deemed to be a chronic if not lifelong treatment - at the moment, Intercept's complete Phase 3 trial is anticipated to run for around 6 years and things should be similar for Genfit's trial. In this context, serious chronic side effect will most likely lessen any treatment's prospect in the NASH field. So, how did both drugs fare in previous trials?
Genfit's elafibranor
In addition to proving safety in multiple trials , elafibranor was specifically tested up to a dose of 300mg in healthy volunteers and demonstrated clear safety on cardiac activity. In the NASH Phase 2b trial conducted by Genfit, there were no reports of death, major cardiovascular events (MACE), effect on body weight, cancer signal or any meaningful change in safety and hematological markers observed in the drug arm. Here is the list of adverse events observed in the Phase 2b trial with the highest 120mg dose tested:
- Table 5: Adverse events list of elafibranor 120mg in Phase 2b compared with placebo
| | | |
| --- | --- | --- |
| Adverse events | Elafibranor 120mg (n=89) | Placebo (n=92) |
| Nausea | 9 | 9 |
| Vomiting | 3 | 2 |
| Diarrhoea | 5 | 4 |
| Headache | 7 | 8 |
| Fatigue/Asthenia | 5 | 6 |
| Creatinine increase | 6 | 0 |
| Abdominal pain | 8 | 9 |
| Myalgia | 2 | 2 |
| Decreased appetite | 5 | 0 |
| Rash | 4 | 1 |
| Pruritus | 1 | 2 |
(Source: Genfit's AASLD presentation )
At this treatment dose, the most notable "adverse events" attributable to elafibranor were a mild increase in creatinine and a decreased appetite which were both observed in less than 10% of patients.
On the other hand, elafibranor, which is a dual peroxisome proliferator-activated receptor (PPAR) agonist, has many collateral positive metabolic effects. Elafibranor works by activating both PPARalpha and PPARdelta, which are nuclear receptors that have a totally natural effect on lipid storage and metabolism regulation in the liver. In fact, that is the very natural mechanism you would expect to activate when increasing intakes of polyunsaturated fatty acids such as omega-3, and precisely why high-calorie diets full of saturated fat are so damageable for your liver - that is actually one of the root causes of NASH.
Besides, PPARalpha and delta agonists have been shown to regulate glucose metabolism, lipoprotein cholesterol metabolism, liver inflammation, and amino acid metabolism (Contreras et al., 2013 ; Reilly et al., 2007 ). In brief, due to its mechanism of action, elafibranor contributes to improving about every possible cardio-metabolic parameter you can think of (see Figure 3) including significant effects observed in Genfit's studies on top of all standard treatments such as:
- decrease in "bad" lipids (including LDL-C), increase in cardioprotective lipids (HDL-C)
- improvement in glycemic parameters, particularly in type 2 diabetic patients
- improvement in cardiovascular risk factors (PROCAM score)
(source: Genfit's data )
- Figure 3: Therapeutic targets of PPAR agonists in the metabolic syndrome

Click to enlarge
(Source: Barish et al., 2006 )
Intercept's OCA
Intercept's OCA has also been tested in multiple trials , mainly for primary biliary cirrhosis (PBC) and it has shown a fairly consistent safety profile across those trials. Here is the list of adverse events as observed in the FLINT trial (OCA 25mg in NASH patients):
- Table 6: Adverse events list of OCA 25mg in Phase 2b compared with placebo
| | | |
| --- | --- | --- |
| Adverse events | OCA 25mg (n=141) | Placebo (n=142) |
| Cardiovascular death or non-fatal stroke or myocardial infarction | 3 | 1 |
| Other (related to cardiovascular events) | 10* | 8 |
| Neurological events (excluding stroke) | 13 | 21* |
| Renal events | 10 | 7 |
| Pruritus | 33* | 9 |
| Hepatobiliary events (excluding pruritus) | 1 | 1 |
| Gastrointestinal events | 42* | 31* |
* including one or more serious or life-threatening events (SAEs)
(Source: The Lancet )
As shown in Table 6, OCA is known to cause pruritus , or itchy skin, in a significant number of treated patients (23% of patients taking OCA experienced pruritus compared to 6% in the placebo arm). This was confirmed by the data from OCA's 72-week Phase 2 trial in Japan (DSP-1747), especially in patients with a long exposure to high doses of the drug - it even appears that 50% of all patients treated in the 40mg OCA arm experienced pruritus-related adverse events (vs. 8% in the placebo arm). While some might be tempted to consider this a rather benign side effect in most cases, it could be a real problem in terms of compliance among patients experiencing daily disturbance from the treatment - it has led to discontinuations of patients in the Phase 2 trials and it also has to be compared with elafibranor's apparent lack of comparable tangible side effect.
However, Intercept's main concern , which is consistent across all of its NASH Phase 2 trials should be the adverse changes in lipid parameters (increase of LDL-C, or "bad cholesterol" and decrease of HDL-C, or "good cholesterol") observed in patients treated with OCA. These findings about OCA's side effects are coherent with the drug's known mechanism of action: OCA is an agonist of the farnesoid X receptor, or FXR, which plays a role in regulating lipid and glucose metabolism. Activating FXR affects how cholesterol is converted into bile acid (which is very effective in treating primary biliary cirrhosis, or PBC, OCA's lead indication) but it also leads to unavoidable negative side effects on "bad" cholesterol (LDL-C) levels which are part of how the drug works (see Figure 4). Besides, as FXR activation also modulates the clearance of triglycerides in the blood, this incidentally decreases "good" cholesterol (HDL-C) levels as well. Combined, these effects are well-known risk factors of cardiovascular disease .
- Figure 4: OCA's mechanism of action (farnesoid X receptor or FXR)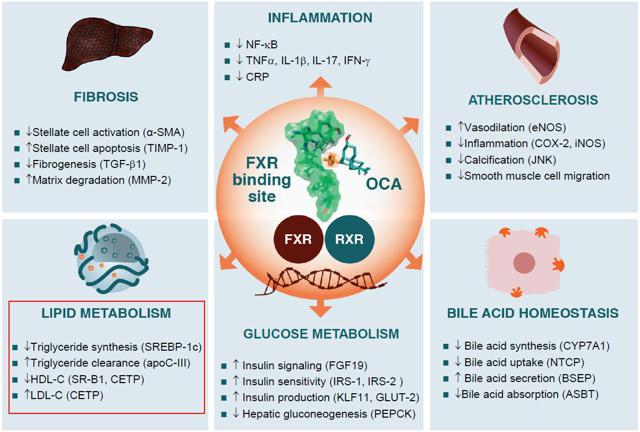 Click to enlarge
(Source: Intercept's November corporate presentation )
While these side effects might be judged acceptable in treating PBC because those patients are not particularly at risk of cardiovascular disease (Longo et al, 2002 ), it will always be a significant issue in a NASH setting because NASH patients are far more likely to die from cardiovascular disease than from NASH itself (Misra et al., 2009 ). Hence, the real benefit of treating NASH patients with a drug that increases cardiovascular disease risk factors which might prove worse in the long term than the drug's beneficial effect on this population really needs to be assessed before considering OCA as an adequate NASH-targeted drug - Intercept's management seems to be well aware of that fact since it has announced the start of a dedicated "lipid metabolism trial" in NASH patients in the coming months.
Even so, this questionable safety profile in a NASH setting could be deemed acceptable if no other targeted NASH therapy were available, but what would physicians do if they had a choice between OCA or another NASH drug with less or no side effect, should there be one available? This seems to be a reasonable question to ask as this very tangible concern could have a significant impact in terms of commercial prospects for OCA, obviously. Here is a partial answer: According to a report by Morgan Stanley, around 44% of clinicians would limit OCA prescriptions to NASH patients with no cardiovascular disease/risk, or not prescribe the drug at all .
TIMING - Who will finish first in the "NASH race" to market?
As explained before, both companies will be allowed to conduct a preplanned 72-week efficacy interim analysis leading to a potential market approval, although Genfit will need to treat only 900 patients (see Figure 5) whereas Intercept will need to treat about 55% more, or 1,400 patients (see Figure 6), to reach the same stage.
- Figure 5: Genfit's Phase 3 projected timeline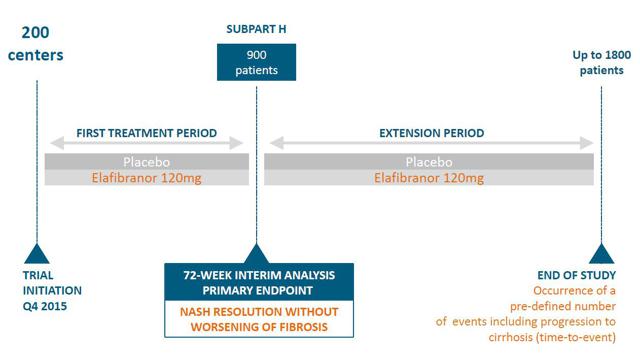 Click to enlarge
After the results of those interim analyses are delivered, patients' cohorts from both trials will remain blinded and treatment will continue for several years pending occurrence of a pre-defined number of events such as death or progression to cirrhosis, as the main goal of the complete trials is to show that those drugs reduce the need for costly procedures such as liver transplant, which can only be assessed in the long term - complete trials are expected to last 5 to 6 years minimum.
- Figure 6: Intercept's REGENERATE Phase 3 projected timeline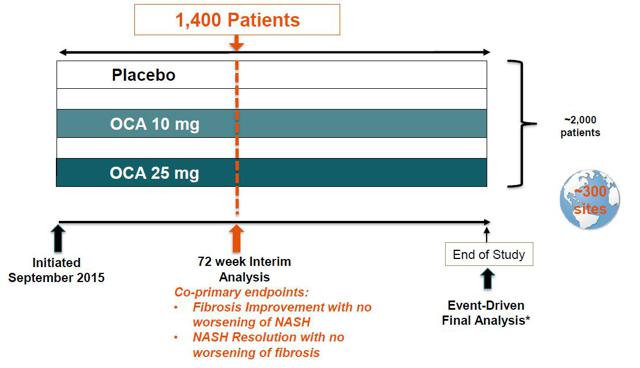 Click to enlarge
Besides, while Genfit recruited patients from 56 active international centers in Phase 2b, Intercept's FLINT trial had only 8 U.S. active centers (see Table 1 before) and, more importantly, this Phase 2b NASH trial was conducted and managed by the NIDDK and not Intercept itself. To start effectively enrolling patients in large numbers, both companies will need to get a high number of centers activated as quickly as possible. Hence, by experience, Genfit is there again far better positioned than Intercept to quickly activate a larger number of study centers.
So, with both Phase 3 trials due to start in Q4-2015 - i.e. only a few months apart - there is a significant probability at this stage that Genfit will be able to deliver interim results before Intercept does. With this in mind, Genfit's management has recently projected that elafibranor could reach the market as soon as 2019 .
On the other hand, while Intercept's management did not provide official projections regarding the timing of OCA's market approval in NASH, word of a 2019 filing for OCA was also circulated by some analysts - although it is likely that this optimistic target will need to be revised in the coming months if the current number of active Phase 3 centers does not increase significantly.
Of note, one has to wonder whether Intercept was so much in a hurry to be the first to announce a Phase 3 trial that it had to really rush the job: The original Phase 3 design as published in September was so largely unfavorable (among other things, requiring patients to undergo painful liver biopsies every 6 months and planning to enroll a total of 2,500 patients instead of 2,000) that the company had to adjust it substantially in the following weeks, as shown by the number of changes operated to the design since then - this is also to confirm that despite the official announcement that the trial was "started in September," it is highly unlikely that any patient would have been enrolled and/or treated so early as in reality the trial design was clearly not finalized, yet.
MONEY - Finances and comparative valuations
Genfit currently has ~$70 million in cash , which should allow the biotech to get its Phase 3 off the ground without delay. The total cost of Genfit's Phase 3 is estimated to be around $150 million and it should be financed through partnering deals or capital increases, including a probable NASDAQ IPO in 2016 towards which Genfit's management has repeatedly declared to be actively working .
Intercept currently has ~$700 million in cash following several capital increases conducted in the first months of 2015, which should allow the company to cover the costs of its Phase 3 trial, at least until interim results are delivered.
Of note, Genfit's cash burn came under $20 million per year in the last 3 years and it is expected to be similar in 2015, while Intercept's net loss for 2014 was an egregious $283 million (including $113 million of operating expenses) with this year's cash burn expected to reach $150-200 million.
In terms of valuation, with both biotechs targeting the same NASH population on the same territories and reaching the same development stage in the same quarter, one would expect to see a rather similar market cap… Obviously, this is not the case, as Intercept is currently valued ~$4 billion while Genfit's valuation stands at ~$1 billion .
To be fair, part of Intercept's valuation is attributable to its successful Phase 3 trial of OCA in PBC for which the company filed market applications this year. However, contrary to NASH, PBC is an orphan indication with a limited eligible target population for OCA (at most 30k patients in developed countries, according to the company's own projections), which despite orphan drug pricing models should not come close to the long-term market opportunity represented by treating NASH - and even that PBC opportunity is doubted by some.
With this in mind, Morgan Stanley estimated that the share of Intercept's current valuation attributed to PBC would be around 20%. One could also think that pre-January 2014 stock price levels (i.e. before the unexpected announcement of OCA's results in NASH) would actually reflect the market's pragmatic valuation of the PBC opportunity, which translates into a share price at around $75.
Hence, the valuation of OCA's opportunity in NASH could stand anywhere between $3.2 billion (80% of $4 billion) and $2.1 billion ($160-75 share value attributable to NASH). In both cases, the point is not to provide a precise and accurate valuation of OCA's market opportunity in NASH, but to emphasize the valuation gap that exists with Genfit's current market cap of $1 billion. In brief, it would seem that the market is currently considering that Intercept's market perspectives and/or chances of success in NASH are at least 200% higher than Genfit's which, according to every possible contextual analysis provided in this article, is not supported by reasonable facts .
CONTEXT - Insiders behavior and analysts' bias
While, in general, insiders' selling transactions might happen for various reasons, including because they are considered as a part of wages or needed for tax-related reasons, they also remain a pretty good indication of the level of confidence that insiders attribute to the sustainability of their company's current valuation.
In Intercept's case, there appears to be a distinctive pattern going on, including large stock sales (over $100 million ) by high-profile insiders, as detailed in previous articles - and since a good picture speaks a thousand words, here is what it looks like:
- Figure 7: Intercept's insider trades in the last 3 years

(Source: NASDAQ SEC form 4 data; image )
This pattern, combined with a curious repeat of capital raises just a few months apart and a pending lawsuit related to allegations of scienter, do not contribute altogether to uplift the company's reputation.
Meanwhile, since the announcement of its Phase 2b results in March 2015, Genfit's insiders have been buying the stock like Genfit's CEO, Jean-François Mouney, who bought for more than EUR 200,000 in shares with his own money at the end of April 2015.
On the clinical front, many of the most renowned NASH specialists in the world have publicly expressed their support for Genfit's data in NASH while being considered impartial or involved with both companies, including Prof. Arun Sanyal (who contributed equally to Intercept's NASH trials), Prof. Vlad Ratziu (who worked for Intercept as well and was quoted in both company's PR) and Prof. Jean-François Dufour (who is a sitting member of the EASL scientific committee).
However, when it comes to supporting Intercept or denigrating Genfit's results, some analysts do not hesitate to produce biased or out-of-context reports based on factual mistakes (Adam Feuerstein ), questionable logics (Barclays ) or even pure denial of clinical facts (Needham & Co .) as demonstrated in previous articles - and even though a number of financial analysts have been releasing bearish takes on Intercept lately, the overall consensus still appears largely favorable to the company.
But this might be about to change with Genfit's remarkable exposure at the latest AASLD congress, as U.S. analysts will need to take the biotech's prospects into account when reporting on NASH opportunities - no serious analyst can ignore that Genfit has received FDA approval to start its pivotal Phase 3 and will be able to sell the product in the U.S., too. Indeed, even Barclays, one of Intercept's most notable supporter in the financial community, just acknowledged the very existence of Genfit in its latest report, so it seems that things are moving and that good data cannot simply be ignored anymore.
CONCLUSION - Facts and perspectives offer an alpha opportunity
As for the facts, Genfit's elafibranor has much better perspectives in a NASH setting than Intercept's OCA, based on 3 objective approaches: previous relevant efficacy results, safety profile and timing to market.
Obviously, Phase 3 results are all that matters in the end and no clinical trial will ever be without risk of failure. However, there again, with a new favorable definition of "NASH resolution," refined inclusion criteria targeting the drug's most responsive patient population and a single surrogate endpoint to achieve for approval, Genfit seems to have all the cards to conduct a smooth and successful trial while Intercept still has many things to prove after recent unconvincing Phase 2 results.
In hindsight, the turn of events also appears to support Genfit's management decisions: The biotech took its time (8 months) to discuss with the FDA and EMA and it obtained a solid Phase 3 design which effectively puts the biotech in pole position in the NASH race, while Intercept rushed to announce a Phase 3 design which had to undergo many important changes since then.
So, with all these elements playing in favor of Genfit, why is the biotech still valued 4x less than its main competitor?
First, there is the huge impact of previous announcements and the influence of simplistic takes on complex issues that still command many investors' feeling about NASH biotechs: Genfit's Phase 2b trial was declared "a failure" by many even though, as demonstrated, this was a conclusive exploratory study which led to a solid Phase 3 trial; Intercept's Phase 2b results caused the stock price to rocket and impressed many investors even though deeper analysis of the raw data shows that it does in no way guarantee the success of the Phase 3 trial, which is a huge underestimated risk. If logic prevails, this discrepancy should disappear as time goes by.
Second, there is Genfit's current stock listing (on Euronext Paris) which prevents or discourages many investors from buying into the French biotech for the moment - this issue should however be taken care of in the coming months, as Genfit's management is currently working towards a NASDAQ IPO in 2016.
In the end, it is a matter of reason and anticipation : Savvy investors are those who are able to identify investment opportunities with a strong rational conviction and a good timing perspective. As of now, Genfit presents both - in other words, this is nothing else than an alpha opportunity .
Elafibranor Data Sheet is Here